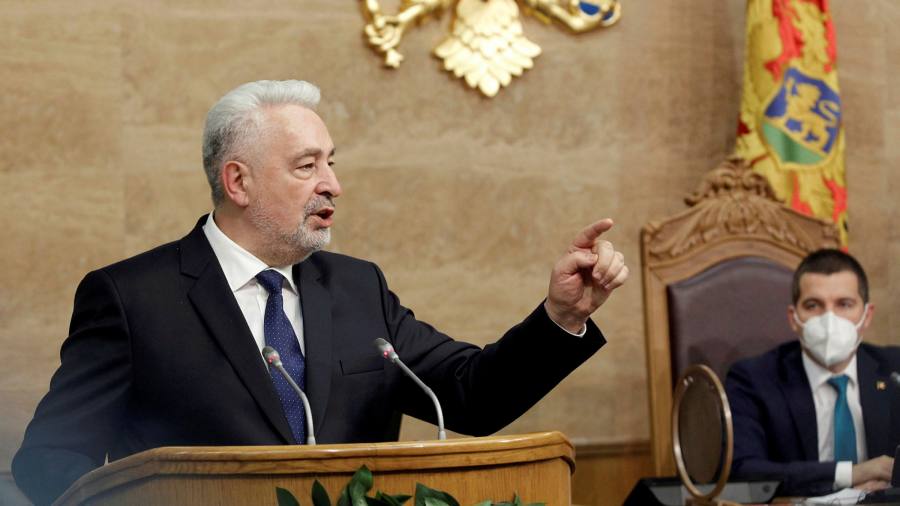 The Prime Minister of Montenegro, Zdravko Krivokapic, has initiated the procedure of removing the Minister of Justice, Human and Minority Rights, Vladimir Leposavic.
During his extraordinary address, Krivokapic said that they "turned a blind eye" when he was questioned about the Amnesty Law and the circumstances surrounding the adoption of prosecutorial laws.
He also said that Leposavic's statement about the genocide in Srebrenica, which Leposavic relativized in the Parliament of Montenegro, added fuel to the fire.
"The hardest decision I made in my life. Guided by clear positions from the agreement with the leaders of the winning coalitions and positions from the exposition, I am acquainted in detail with the events and work of the ministers. This government is being overthrown by everyone, both the position and the opposition, the environment and the center, and no one sees it as their own. These are birth pangs because we have not yet overcome childhood illnesses. I gave freedom to every minister believing in his biography and expertise. It may never have happened in history, but interchangeability must happen. "No one is in a position to stay in office for four years," Krivokapic pointed out.
He said that Leposavic is a man of exceptional intelligence and knowledge, but it is inadmissible for him to express his private views.
"No one's biography should be an excuse for any activities. Only deeds testify to us. Once again, at today's joint session, I asked five questions – do I lead the government well, is the government 100 percent oriented towards the European Union (EU), can one person be more important than the government and the state, does anyone want those that imposed on us what is unacceptable anywhere in the world for 30 years, the way we can, we need neither the judiciary nor the prosecution. Everyone is pressuring the government here, why isn't someone pressuring the judiciary and the prosecution. Why doesn't someone put pressure on the Assembly, which did not pass numerous laws, did not allow the RTCG, which sends messages of hatred, to be disempowered. I asked the fifth question whether we should do this shift ourselves or someone else ", said Krivokapić.
"Montenegro must change. Why is there an attack on this Government from all sides? Nobody addresses the parliamentary question that leans towards fascism. How can there be a prime minister who voted for a common state? So the Germans and the French reconciled, why is it a problem for whom I voted? I have not negotiated with anyone, nor do I want to break this Government, but it is natural to think what is better. The DF and SNP misunderstood that during the conversation, I have no intention of going through that story, "Krivokapic said.